Build A landing page that converts above 50%.
A Landing page is a Webpage made to do a specific thing, such as capture an email lead (signup) or sell a product.
The best converting opt in pages are usually for a "free E-book" or "Free Access" to something.
If you don't have any landing pages to capture leads for your business then you can build them easily no experience required with a drag and drop Webpage builder, we will get onto that in just a sec.
So if you can give your visitors a thing in return that is valuable to them, why wouldn't they take you up on the free offer.
Using targeted traffic to get sign ups or leads for your online business, with a half decent landing page, you typically get 30% opt in conversions.
My guess is that your pages are converting at 30% and significantly less if you are completely new.
When I first started online business, I spent tons of money and hundreds of hours trying to get my visitors to sign up on my landing pages.
First of all I was converting at 10%, I learned a bunch of things to start bringing this rate up.
Started to get 20% opt ins, 30%…
But I couldn't get any higher than 30% with the same traffic, I started to change my pages and even got a worse opt in rate.
Once I sorted out all of the things I needed, I created a formula on  building a landing page that converts every time I started a new campagin at around 50%.
This was purely because I knew what things I needed to include &  I started using LeadPages.
Since LeadPages I have used a few of the best rated landing page builders, they can be used for a lot of things (salespages/membersareas/online courses/email signups /thankyoupages).
But I must say Leadpages is the best for making pages quickly without zero skills required and capturing leads.
There were things that I just couldn't get on my landing pages because the tools I were using didn't have features I needed to boost the conversion rate.
Here is a checklist of the core things you need (using LeadPages), to reach 50%+ opt ins.
Oh and just a quick reminder…. Always make sure your traffic is targeted for better opt in rates.
There is no good making a really awesome capture landing page but sending irrelevant visitors as they are less likely to be interested to sign up/buy.
Checklist To Include In Landing Page:
Include Open Question or headline (insert pain/emotion) for the problem you are solving & reason they should opt in to you.
What are they getting? The giveaway must be good so that they have no reason to opt into us.
Answer potential questions the visitor may have about signing up (is it 100% free? etc)
Imply scarcity (only a few spaces left).
COUNT DOWN TIMER – This boosts your opt in rates every time, I have tested with and without and the countdown timer, its one of the most simplest things to include but important, without it you are losing sign ups. It improves opt ins and can be as much as 10%.
Include Social Proof & Trust (optional)
Although lead capture pages can be long and full of stuff, some of the best opt in rates come from the most simplest sign up pages.
Here are a few examples of my lead capture pages, you can copy the components I have included, these pages are 50% opt ins.
To get the best opt in rates you do have to start out with something that may convert lower, for example this Instagram one below here started off with 38%, I then brought it up to 52%.
Here  is another one,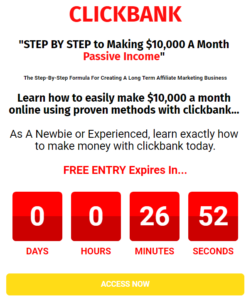 This one had a screen shot of earnings in the middle, but i took it out to squeeze in a screen shot :D!
So as you can see they are both quite tidy, simple and convert at 50%, the first on was 49 and the second one was 51.
Follow my steps and make pages like mine and you will be converting 50% in no time. There will be some trial and error along the way for you to sort of with your campagins.
But if you use the same traffic and stuff you are using now (same free giveaway etc) I can guarantee your opt in rates will improve.
Did I mention? LeadPages also has a free trial, take advantage now.
Got your landing pages?
Read my ways to make easy money from your traffic & leads.