How To Set Up Pilot Poster For Facebook Auto Group Posting.
In this tutorial I will be showing you inside the Pilot Poster Auto Group Poster.
Pilot Poster is a handy tool for posting in multiple Facebook groups without having to lift a finger.
I'll be showing you how to set up pilot poster to carry out your daily chores of posting in groups.
Apart from setting up and pressing GO! Enjoyfree traffic and leads for your business with doing little work.
With Pilot Poster you can post to as many groups as you want.
Set it to post repeatedly on any day intervals, for example post every 1 or 3 days.
You can get all the hard work done, with this free traffic tool.
See my Pilot Poster Tutorial Video Below
Click here to get a Free Pilot Poster Account.
This software is has a free forever option, where you can post with one account.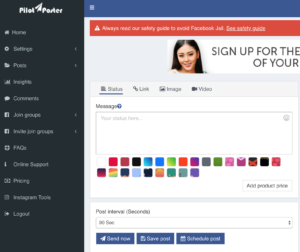 Once you are signed in, you will be asked to enter your FB account details. You will need to do this to activate your account.
Copy the token upon login and paste into the box under it.
CONGRATULATIONS!
You are now ready to schedule your first post.
Write out your post, use an image or video if you wish.
Fill out your scheduling parameters and then continue below.
Fill out then select the groups you want to post in.
Hit schedule post.
And if you go over to scheduled posts, you will see your posts have been saved and will post accordingly.
Watch my tutorial video above, I will show you exactly how to set the pilot poster Facebook group posting software up.
Want more Free Traffic Methods?