How to send auto Facebook Friend Requests
See How To Send auto facebook friend requests using this amazing chrome extension.
In this guide I'll explain how to send auto facebook friend requests & many other actions.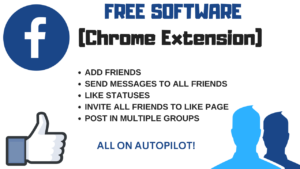 Cut yourself some slack with the hard labour of making these actions manually.
Send auto facebook friend requests using this AUTO chrome extension, it will make these boring tasks a little lighter and it is free.
I came across this tool when I was looking for something to help me break down my workload.
If you know anything about my online busy you will see that there is an awful lot going on. To keep up with all this and the bucks rolling in I need automation to do things for me.
There are many awesome softwares out there on the Market which you can pay for that work flawlessly and 100% autopilot. But if you are a  bit of a cheapskate and want something to help you out for free then this is for you ;).
I know you guys LOVE free stuff so I wanted to share this gem I stumbled across.
Check out my YouTube video below, don't forget to like and subscribe so you don't miss future tips and tricks!
Check out this second awesome tool below:
Click here for a free 100% autopilot Facebook group poster