Have I got a treat for you.
Have you used software like Jarvee or Instagress?
Grow your Instagram account and get masses of followers and traffic on autopilot!
I've released the latest version of my Social Media Traffic Software.
If you aren't already using SociaPal and want a free account, you can sign up here.
I've used all kinds of automation tools to get me traffic online. Some are really easy to use and others are a pain to setup and require a fair bit of "skill" to use.
So… I decided to get my own tool, that is user friendly and highly effective.
Working closely with my developer, the team and I have created an awesome tool!
The software is
Cloud based

and there are NO downloads.
You can have it running day and night, even when your device is off.
Not to mention, its
MOBILE FRIENDLY!
You can set up automation and get traffic from your mobile. Check out the features and what the software does below:
Facebook: Wall Post, Group Post, Page Post, Scraper
Instagram: Normal Post & Hashtags In First Comments, Follow/Unfollow, Like, Comment, Repost, Engaging With Likers
Choose from a wide range of targeting, you can customise any settings you can imagine.
Twitter:
Repost, Post, Schedule
Pinterest:
Repost, Post, Schedule Follow Unfollow (COMING SOON)
LinkedIn:
Post, Repost, Schedule, Add Users (COMMING SOON)
The Pinterest & LinkedIn models will be coming soon.
There is a chance to purchase a 1 time Full Package as well as monthly payments.
You can use the tool for FREE unlimited use for 3 days.
Or you can use the FREE VERSION for lifetime (1 account).
The bigger your package the more accounts you can use to yield traffic.
Here are some screenshots of the tool.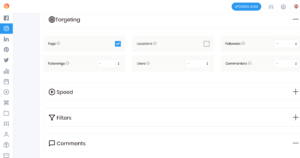 Go ahead and take a look around, you can get free unlimited access for 3 days here.
Or create a lifetime free account here.